Hey Dolls…
As we know the weather has changed and it is now so cold I think Winter has officially started 🙁 . So its time to wrap up and be all cosy and warm again say hello to the Winter Coats your new best friend hehe. I have decided to pick a few different styles of coats that will be perfect for during the Winter whether it be going out for dinner or heading to work at 5:30 am like myself. Let me know which ones are you favorites 🙂
1. The Mac Coat: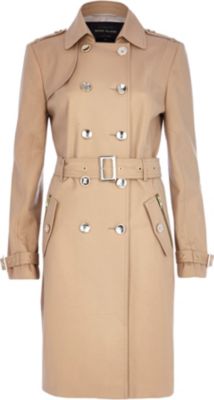 I have been looking for the perfect mac for a while now and I spotted this in River Island a few weeks ago and instantly loved it. I tried it on and just knew I had to have it. It is a bit expensive at €113 but it definitely looks way more in person and when you have it on it feels great. This mac is on my wish list for winter.
You can check this out on River Island here
2. The Boyfriend Coat:
The boyfriend jackets are huge this year and I am a huge fan. I have my eye on this one from Only available on ASOS for a while now and recently tried it on in Only and its fab.  I love the fact it has a print on it and not just your regular boyfriend coat.
You can check it out on ASOS
here
:
There are so many boyfriend coats around and some gorgeous ones in Penneys. My sister recently got a grey one in Penneys and its so nice its very similar to this one from Topshop but at a fraction of the price amazing!. It is definitely worth a trip to Penneys and check out their coat range.
Check this one out on Topshop
here
:
3. The Parka:
The parka jackets are always a must have in your wardrobe especially living in Ireland you don't know what way the weather will be the next day so for those frosty and wet mornings the Parka jacket is perfect. Just throw it on and you are instantly cosy and warm. I have a few Parkas in a few different c colours black navy cream and green and they never date. I personally think the classic green parka is perfect because it goes with almost every outfit.
Check out this one from Miss Selfridge
here
.
Also I really like this grey parka because it is a different colour than the usual Parka and grey will also go with almost every outfit.
 I saw this one in Vero Moda check it out
here.
4. Add a bit of leather:
At the moment I am really loving the jackets that have some leather on them. I think they are super stylish and definately a must have this winter. They are everywhere I got this one from ASOS on sale and so many people have admired it I just love it.
Check this coat out
here.
I also spotted this one while walking past Vero Moda and it was in the window, This jacket is gorgeous and looks so warm and cosy. I also love the colour.
I hope you liked this post. Feel free to contact me with any questions. Also let me know what your favourite jackets/coats are for this winter.
Richael x